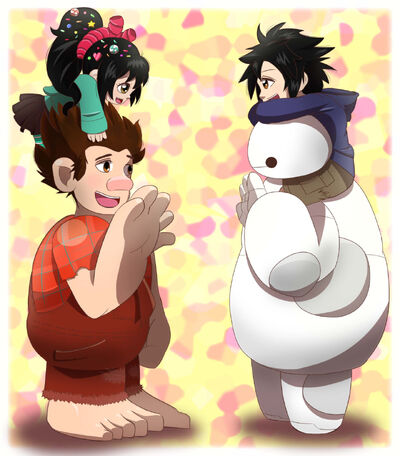 Wreck-It Hero 6
(also known as
Big Wreck-It 6, Big Wreck 6
or
Arcade Heroes
) is a crossover between the two CGI animated movies
Wreck-It Ralph
and
Big Hero 6
. While this crossover is not very widespread it still has several loyal fans.
About this Crossover
Edit
In the Big Hero 6 film, there are a few Wreck-It Ralph Easter Eggs, along with the Moppet Girl looking a bit like a younger version of Honey Lemon. There is also a Japanese theme in both Big Hero 6 and the world of Sugar Rush with a few of its sugary themed racers, like Minty Sakura who only appears in the Japanese duded version of Wreck-It Ralph.
The Big Hero 6 team can spend their free time at Litwak's Arcade and play the three main games, Fix-It Felix, Jr., Hero's Duty and Sugar Rush the most. Fans have also cast the team as Sugar Rush Racers and have given them their on racing go-karts for the Arcade AU. As well as the young racers are sometimes featured as teenagers or children living in San Fransokyo, along with other characters from Wreck-It Ralph as people living in the city. So they could exist in the same world, or travel to and from them.
Popular Ships
Edit
Popular AUs
Edit
Popular EUs
Edit
Known Examples
Edit
Fanfiction
Edit
Mockup Art
Edit
Miscellaneous
Edit