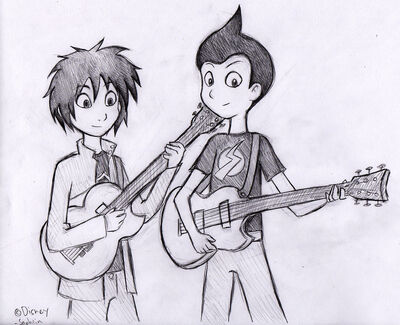 Wilro
(also called
Hirbur
) is the name of the pairing between
Wilbur Robinson
from
Meet the Robinsons
and
Hiro Hamada
from
Big Hero 6.
Though not a widely popular ship, it does have a few loyal shippers. This pairing is considered an extension of
The Modern Four.
Relationship Overview
Edit
Hiro and Wilbur are a lot like Hiccup and Jack Frost. The bad boy and the nerd finding one another. Wilbur is a time traveling, arrogant dork, while Hiro is an arrogant superhero nerd. Both really compliment each other well. They would have a love-hate thing when they first meet but soon get over that. When Hiro is down (being the more pessimistic) Wilbur the optimistic one who can cheer him up and tell him to keep going.
Popular AUs
Edit
Known Examples
Edit
Fanfiction
Edit
Mockup Art
Edit
Ad blocker interference detected!
Wikia is a free-to-use site that makes money from advertising. We have a modified experience for viewers using ad blockers

Wikia is not accessible if you've made further modifications. Remove the custom ad blocker rule(s) and the page will load as expected.