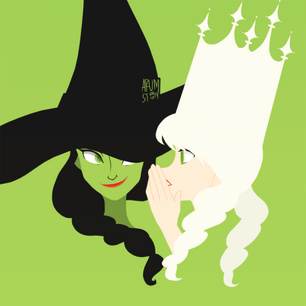 Wicked AU (Wizard of Oz AU and Oz The Great and Powerful AU) Is an alternate universe usually within Rise of the Brave Tangled Dragons universe and Rise of the Brave Tangled Frozen Dragons universe. In the AU, Hiccup, Jack, Merida, and Rapunzel are the main characters within the book series Wizard of Oz and Oz The Great and Powerful. This AU can be considered as a sub-scenario of Fairy Tale AU.  
About the AU
Edit
Spawned by fanart this AU is based on the musical Wicked, which has a relation with Wizard of Oz and Oz The Great and Powerful, is the most popular play that made the movies rise to fame along with the play.
It's mostly centered around Elsanna, since they are sisters in Frozen, and Idina Menzel, the voice actress of Elsa, played as Elphaba/The Wicked Witch in Wicked.
Featured Characters
Edit
The Big Four
Edit
He is usually casted as Scarecrow or Oz. This could be of the pairing Hiccstrid or Hiccunzel. Because of his love of nature and Dragons. He would commonly be casted as Scarecrow, because he is scared of his father finding out that he's been training Toothless, like Scarecrow would be scared of crows. As for him casted as Oz, it would mostly be because of How to Train Your Dragon 2. Especially, when he finally discovers more about Dragons and Toothless from his Mother, who he thought was dead.
He would usually be casted as Tinman or Fiyero. This could be of the pairngs Jackunzel and Jelsa. He would commonly be Tinman because of his charm, but his wishes he can have a heart so he can love and feel emotions, which is kind of similar to Jack Frost, because he wants children to see him. As for Fiyero, which is based of the play Wicked, he would commonly be him because of his charm he has on The Wicked Witch, which is commonly played by Elsa.
She would usually be casted as The Wicked Witch because of Meripunzel. Also Rapunzel is often portrayed as Nessarose, so in the play they would make either Merida or Elsa as the Wicked Witch. Another reason because of the fierce side she has about herself, which is very similar to The Wicked Witch.
She is also casted as the Lion because of this reason too, but sometimes is cowardly and wishes to not be scared, especially when she tries to be brave and fix the mistakes she makes (hint at the movie title).
She would usually be casted as The Good Witch, Dorthy or Nessarose because of Jackunzel or Hiccunzel. She would be the Good Witch, because of her purity and innocence in Tangled. Also, if Elsa was the Wicked Witch, and some people think they are cousin's, they would commonly put them as sisters because some people believe they are related by blood.
Extra Characters
Edit
Since it's mostly surrounding Elsanna, most people would make Anna as Nessarose because how pure she is like Rapunzel. Also the fact that Elsa and Anna are sisters. So, it would make since that they would be the sisters in the play as they are in Frozen.
Since Idina Menzel played both Elsa and Elphaba, people would commonly put her as the Wicked Witch. Including the fact Elsa and her have things in common. Elsa runs away because Anna finds out her ice powers and decides to be alone, much like The Wicked Witch. She is similar, because her Father Frex, prefers Nessarose over her. Which makes her feel alone in the world.
He would normally be casted as Fiyero because of the pairing Helsa and because in the Wicked story he loves the Wicked Witch, but when he's killed she saves his life by turning him into the Scarecrow, which Hicccup can be the younger version of Hans, and also can be made into a pairing of Hiccelsa. Sadly he doesn't remember her and eventually falls for Dorthy, which Rapunzel usually casted as. Making the pairing Hansel.
He can usually be casted as the Wizard, in all three universes. He falls for Dorthy, The Good Witch, and Nessarose. In the Wizard of Oz universe, he is interested in Dorthy, but nothing more. Which people can make something more out of their relationship because of the pairing Rapunzler. In the Oz The Great and Powerful universe, he falls for The Good Witch, which can make Rapunzler and Annaler. In Wicked, he liked The Wicked Witch at first, but then when she joins the Oz rebellion he falls for Nessarose instead. In this relationship, ThinIce still exist, but it doesn't last long. It soon turns into Annaler instead, but it doesn't last long either, because she get's crushed by Dorthy's house. Which made him fall for The Good Witch instead and it can have close ties with Oz The Great and Powerful universe.
Known Examples
Edit
Fanfiction
Edit
Mockup Art
Edit
Ad blocker interference detected!
Wikia is a free-to-use site that makes money from advertising. We have a modified experience for viewers using ad blockers

Wikia is not accessible if you've made further modifications. Remove the custom ad blocker rule(s) and the page will load as expected.