The Wedding Rings are Rapunzel (as she becomes Mrs. Fitzherbert) and Eugene Fitzherberts' for the short film Tangled Forever After.
Appearance
Edit
Two gold rings Eugene's as Corona's sun crest(s) round it, while Rapunzel's has small (and smaller) white diamonds; that shine like the tear shape diamonds on her crown.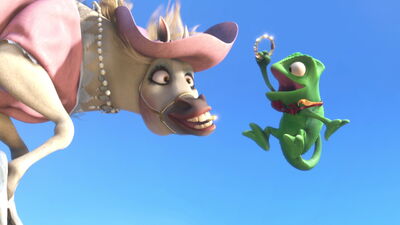 The rings of the future King and Queen went on a bit of a adventure (with
Maximus
and
Pascal
chasing after them) around the kingdom before being placed around the newly married couples' fingers.

They were said to be Queen Arianna's grandmother's (true or just in Pascal and Maximus' disaster vision is "still" unknown) before passing them down to her daughter and son-in-law.
Role in the Crossover
Edit
Ad blocker interference detected!
Wikia is a free-to-use site that makes money from advertising. We have a modified experience for viewers using ad blockers

Wikia is not accessible if you've made further modifications. Remove the custom ad blocker rule(s) and the page will load as expected.