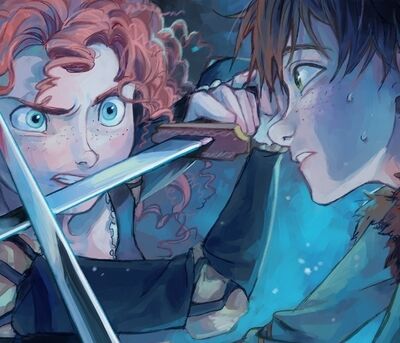 War AU is a fairly common scenario in fan-made works involving the Big Four.
In this AU, the locations in the fandom have began waging war with each other, and it is up to the main characters to make peace.
About this AU
Edit
Originating from the Mericcup pairing, War AU is the concept of war waging between the locations found in the fandom (kingdoms usually). In Brave, it is mentioned that one of the enemies that led to the four clans to unite as one to fight them off were Vikings, leading to the conclusion that the Hooligan Tribe could have been one of these Viking tribes, and fanfiction writers go from there.
These locations include Berk, DunBroch, Corona, Arendelle and virtually anywhere else. 
Popular Spin-off AUs
Edit
Featured Characters
Edit
The Big Four
Edit
Extra Characters
Edit
Known Examples
Edit
Fanfiction
Edit
Mockup Art
Edit