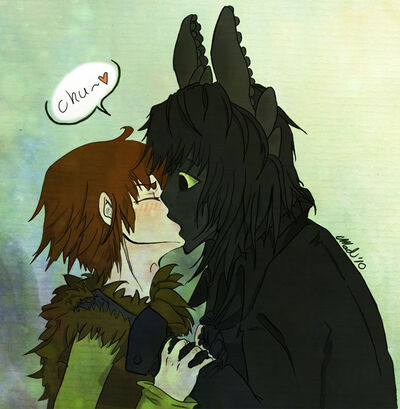 Toothcup
 (also known as
Hiccless
,
Hicctooth
and
Useless
) is the name of the pairing between 
Hiccup Haddock
 and
Toothless
 from 
How to Train Your Dragon (2010)
. It is not a popular ship in the Big Four fandom, but there are still many who support the relationship.
Relationship Overview
Edit
In a move to prove himself worthy to the village, Hiccup built himself a machine to shoot down dragons. On his first test run, Hiccup managed to bring down a Night Fury, which landed in the woods, tied up and helpless. Unable to go through with killing the defenseless dragon, Hiccup set him free. When Hiccup came back, he found the Night Fury unable to fly out of a valley that he escaped to, half of his tail-fin torn off from Hiccup's invention. After much trial and error, earning the trust of the now christened "Toothless" and replacing his tail-fin with a prosthetic, the two became an inseparable duo. 
After failing to kill the savage monstrous nightmare in the killing ring, revealing his secret in front of the entire village, Hiccup and the rest of the teens managed to follow Stoick's armada to Helheim's Gate, fighting off the Red Death until Hiccup and Stoick managed to free Toothless from his holdings. Together, the two were able to defeat the Red Death, making peace between the Dragons and the Hairy Hooligans. At a price, Hiccup lost his left leg and was replaced with a wood and metal prosthetic, making him and Toothless more alike and closer.
In Gift of the Night Fury, Hiccup manages to build Toothless a prosthetic tail-fin that would allow him to fly without Hiccup. However, instead of going to Dragon Island like all of the other dragons, Toothless spent the next few days searching for Hiccup's lost helmet. The next morning, Toothless tries to get Hiccup to use the old saddle and fin. As proof that he needs Hiccup as much as Hiccup needs him, Toothless destroys his new tail and gestures to the old one, ready to fly with his best friend.
Seeing potential in the characters, fanfiction writers and fan-artists portray them as either the most innocent of friends to lovers, giving Toothless a human (or at least humanoid) form to accomplish this. This "Human-Toothless" has become an incredibly popular character in not just the Big Four fandom, but the fanbase of How to Train your Dragon in general. Much like Tuffcup, Toothcup spawned mainly for demand of a yaoi pairing in the franchise.
Popular AUs
Edit
Known Examples
Edit
Fanfiction
Edit
Note: Please add only ones that are part of the RotBTD fandom
Mockup Art
Edit