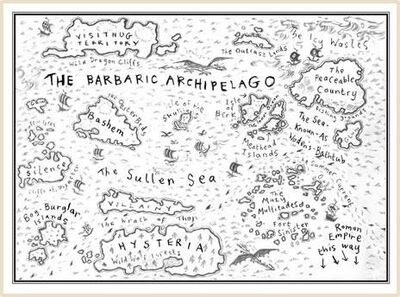 The Barbaric Archipelago
 is the primary part of the world that the events of the
How to Train Your Dragon
franchise takes place.
As the viking culture took place far-north of Europe, it is easy to assume that the Barbaric Archipelago takes place in Scandinavian Scotland, but more specifically between the Greenland and Norwegian Seas.
Characteristics
Edit
The main island settings in the books are the Isle of Berk, Meathead Islands, and Hysteria. Other islands include the Bog-Burglar Islands, the Peacable Country, the Mazy Multitudes, Visithug Territories, Berserk, Villainy, The Outcast Lands, Lava Lout Island and the Ugli-thug slavelands. In the film, the only two islands visited are Berk, and the Dragon Nest. Later on Astrid and Hiccup find a island with the sleeping Soul Render.
Some of the mentioned seas are The Sullen Sea, the Sea-Known-as-Woden's-Bathtub, and the Wrath of Thor. The Wrath of Thor is a thin straight of rapid water running between Villainy and Hysteria.
Assumingly to the north of the Archipelago lie the Icy Wastes, meaning the Roman Empire lies to the south, and the Open Ocean lies to the west. And after the crossing toward the open ocean you reach America.
Notable Locations
Edit
Outcast Lands (Books)/Outcast Island
Berserk Island
Helheim's Gate
New Birth Island
Dragon Graveyard Island
The Rookery
Breakneck Bog
Changewing Island
Odin's Shield
Itchy Armpit
Fireworm Island
Healer's Island 
Eel Island
The Shivering Shores
Sorrow Island (Sunken by the Screaming Death)
Crescent Island (Sunken by the Screaming Death)
Tall Tree Island (Sunken by the Screaming Death)
Sunstone Island (Sunken by the Screaming Death)
Boarhead Island (Sunken by the Screaming Death)
Thor Rock Island (Sunken by the Screaming Death)
Ship Graveyard (at the edge of the Archiplago)
Glacier Island
Melody Island
Dark Deep
Book-Only Locations
Edit
Meathead Islands 
Peaceable Country 
Isle of the Skullions 
Bog-Burgular Islands 
Hysteria 
Swallow
The Waterlands
Lava Lout Island
Murderous Island
Visithug Territory
Mazy Multitudes
Bashem
Puffin Isles
Island of Silence
Isle of the Quiet Life
Uglithug Territories
Amber Slavelands
The Mystery
Frozen Isle of Nowhere
Grimbeard's Despair
Island of Tomorrow
Hero's End
Role in the Crossover
Edit
Ad blocker interference detected!
Wikia is a free-to-use site that makes money from advertising. We have a modified experience for viewers using ad blockers

Wikia is not accessible if you've made further modifications. Remove the custom ad blocker rule(s) and the page will load as expected.