El Terrible Terror (o Terror Terrible) es uno de los dragones más pequeños que hay. Recuerda vagamente a un Dragón de Jardín o Común y es aproximadamente del tamaño de un gato. El Terrible Terror puede escabullirse en las casas, cobertizos y chozas de los Vikingos, atacando a sus presas cuando menos se lo esperen. La única advertencia que dan sobre su ataque es el sonido que hacen antes de escupir fuego.es de escupir fuego.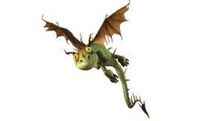 Comportamiento
Edit
Suelen ser bastante traviesos y curiosos. Viajan en grupo y pueden ser muy agresivos. También bastante inquisitivos, pues suelen estar en lugares en los que nunca te los hubieras imaginado. A pesar de que tienen párpados, se ha visto que lamen sus ojos con su lengua como algunos Guecos. Son muy ruidosos y escandalosos. No son especiales con la comida, así que comerán cualquier cosa que encuentren y puedan digerir. Por lo que se ha visto, son relativamente fáciles de entrenar. faciles de entrenar.
Ad blocker interference detected!
Wikia is a free-to-use site that makes money from advertising. We have a modified experience for viewers using ad blockers

Wikia is not accessible if you've made further modifications. Remove the custom ad blocker rule(s) and the page will load as expected.