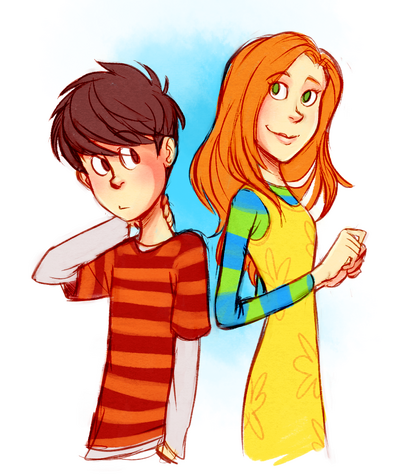 Tedrey
is the name given to the pairing of
Ted
and
Audrey
from
The Lorax
. While not a popular pairing around the
RotBTD
fandom, it does have many loyal fans.
Relationship Overview
Edit
In the movie, Ted has a huge crush on Audrey, despite the fact that she is years older than him, and will go to any lengths to impress her. At the beginning of the film he learns of her desire to see a real live tree (since everything in their town is made of plastic) and vows to get one for her. Even with the angry mayor O'Hare out to stop him, Ted continually ventures outside the twin wall to listen to the Once-ler's story and get a real tree for Audrey.   
At the end of the movie, Ted and Audrey, along with Ted's mother and grandma, are able to plant a Truffula tree seed in the middle of her town, and Audrey gives Ted a small kiss on the cheek. It is unknown if Audrey has romantic feelings toward Ted or if the kiss was simply out of gratitude, but lots of fans like to continue their relationship after the movie. In most fanfictions, Ted is still trying to impress Audrey, and two of them often get together, but this is usually after they both get older. 
Popular AUs
Edit
Known Examples
Edit
Fanfiction
Edit
Note: Please add only ones that are part of the RotBTD fandom
Mockup Art
Edit
Ad blocker interference detected!
Wikia is a free-to-use site that makes money from advertising. We have a modified experience for viewers using ad blockers

Wikia is not accessible if you've made further modifications. Remove the custom ad blocker rule(s) and the page will load as expected.