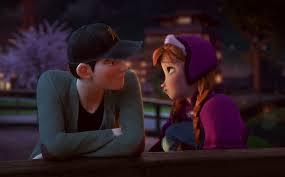 Tadanna
(also called
Annadashi
) is the name of the pairing between
Tadashi Hamada
from
Big Hero 6
and
Princess Anna
from
Frozen.
Though not a widely popular ship, it does have several loyal fans.
Relationship Overview
Edit
Tadashi and Anna are both optimistic, loving and determined individuals. It is likely that the two would bond instantly, with Anna's high-energy and bubbly personality providing a good counter-balance to Tadashi's laid-back gentleness.
Additionally, both characters love and support their siblings above all else, and it is possible that the two could bond by talking about their experiences with Elsa and Hiro respectively. Whenever one is down, the other would encourage them and convince them never to give up on their loved ones. Whether as friends or lovers, the two would get along well.
Popular AUs
Edit
Known Examples
Edit
Fanfiction
Edit
Mockup Art
Edit
Ad blocker interference detected!
Wikia is a free-to-use site that makes money from advertising. We have a modified experience for viewers using ad blockers

Wikia is not accessible if you've made further modifications. Remove the custom ad blocker rule(s) and the page will load as expected.