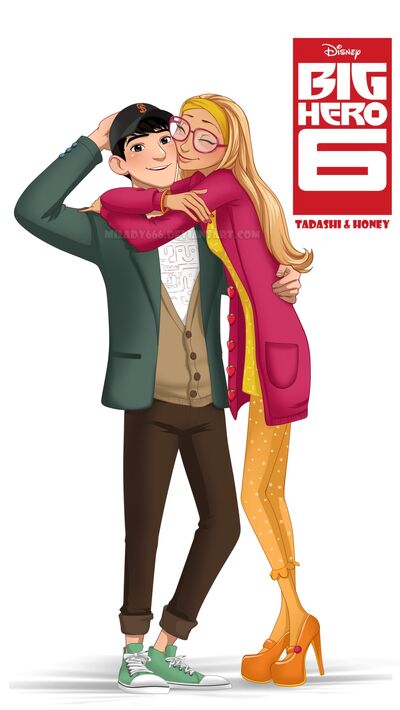 Tadahoney 
(also called
Honeydashi
) is the name of the pairing between 
Tadashi Hamada
 and
Honey Lemon
from 
Big Hero 6
. It is one of the most popular ships in the fandom, it has already developed a very wide fanbase of loyal shippers.
Relationship Overview
Edit
As members of their own little clique at the San Fransokyo Institute of Technology, Tadashi and Honey Lemon were both classmates and close friends along with GoGo, Wasabi, and Fred. When Honey Lemon is first introduced, she seems more excited to see Tadashi than the rest of his friends, though this is possibly due to her own happy and perky nature.
Honey Lemon and Tadashi are both kind-hearted, caring, smart and optimistic individuals, which leads many fans to believe that they would get along well and eventually be attracted to one another. As with many other fan-made pairings, their dynamic is interpreted to be platonic by some, and romantic by others.
Popular AUs
Edit
Known Examples
Edit
Fanfiction
Edit
Note: Please add only ones that are part of the RotBTD fandom
Mockup Art
Edit
Ad blocker interference detected!
Wikia is a free-to-use site that makes money from advertising. We have a modified experience for viewers using ad blockers

Wikia is not accessible if you've made further modifications. Remove the custom ad blocker rule(s) and the page will load as expected.