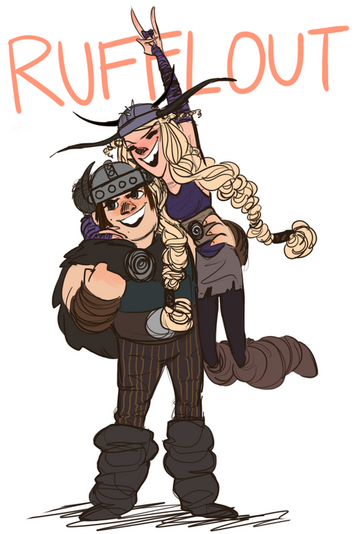 Rufflout
is the name of the pairing between
Snotlout Jorgenson
and
Ruffnut Thorston
from
How to Train Your Dragon (2010)
. 
It is not a popular ship in the Big Four fandom, but there are still many who support the relationship.
Relationship Overview
Edit
In How to Train Your Dragon 2, Snotlout and Fishlegs fight each other for Ruffnut's attention and affection. Their efforts are useless however, as Ruffnut shows no interest in either of them, even recalling how one of Snotlout's attempts at winning her resulted in him getting beaten and nearly buried alive. Despite Ruffnut's attention targeting Eret, both try desperately getting her approval. Both manage to save Ruffnut in the heat of battle, winning her affection, only for her to be ignored by them in the end in a comedic fashion. It is currently unknown whether she chose either of them after this.
Unlike Astrid, Ruffnut and Snotlout's personality's mesh much more together. Both are loud, impulsive and none-too bright; the perfect Vikings of tomorrow.
Popular AUs
Edit
Known Examples
Edit
Fanfiction
Edit
Note: Please add only ones that are part of the RotBTD fandom
Mockup Art
Edit
Ad blocker interference detected!
Wikia is a free-to-use site that makes money from advertising. We have a modified experience for viewers using ad blockers

Wikia is not accessible if you've made further modifications. Remove the custom ad blocker rule(s) and the page will load as expected.