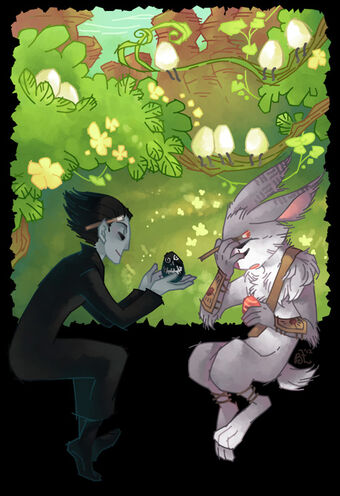 RottenEggs
is the name of the pairing between 
E. Aster Bunnymund
 and 
Pitch Black
 from 
Rise of the Guardians
. Though not a very popular pairing, RottenEggs does have its followers.
Relationship Overview
Edit
In the film, Bunny was the first to attack Pitch when he gloats of his plans. The biggest blow the Guardians collectively feel was after the destruction of Bunny's eggs - and Easter in response - destroying belief in the Easter Bunny and the hope in children across the world. 
While maintaining no relationship with each other outside of an antagonistic one, the two do share some similarities in that regard. 
Both consider their work, as well as how they go about it, to be very important. They both have a particular distaste for Jack Frost's hellion antics and "selfish behavior". Many like to believe Fear and Hope to have a symbiotic relationship with one another, one fueling the other in a cycle, and that Pitch and Bunny maintain a similar relationship.
Popular AUs
Edit
Known Examples
Edit
Fanfiction
Edit
Note: Please add only ones that are part of the RotBTD fandom
Mockup Art
Edit
Ad blocker interference detected!
Wikia is a free-to-use site that makes money from advertising. We have a modified experience for viewers using ad blockers

Wikia is not accessible if you've made further modifications. Remove the custom ad blocker rule(s) and the page will load as expected.