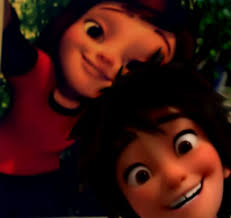 Penniro 
(also called
Hirenny, Henny, 
or 
Penro
) is the name of the pairing between
Hiro Hamada
from
Big Hero 6
and
Penny Forrester
from
Bolt
. Though not a widely popular pairing, it does have loyal fans. It is considered an extension of the
Modern Four
.
Relationship Overview
Edit
Penny is more calm and rational than Hiro. He thinks more with the heart then Penny though Penny is emotional as well. Hiro is very daunting and impulsive while Penny seemed more prone to manipulation (think of how her agent treated her) Their dynamic is a gentle girl/brooding boy duo. This dynamic can be seen as such: Penny is an animal lover, talented, quiet, gentle, optimistic, caring girl who just wants happiness and peace. Though she seems to like adventures considering that's why she even tried out for the role of "Penny the spy". Hiro is a prodigy, pessimistic, brooding, superhero, bad boy, smart guy who loves adventures.
Both have dealt with personal loss (Penny grieved when Bolt was missing and Hiro grieved when Tadashi died) so both of them can understand each others pain and sorrow. Even when they might not have had the same experience it still made them very depressed. Both have been through traumatic incidents involving fire (Penny almost died from smoke inhalation when she was trapped in a burning building and Hiro watched Tadashi die in an explosion).
Popular AUs
Edit
Known Examples
Edit
Fanfiction
Edit
Mockup Art
Edit
Live Action Art
Edit