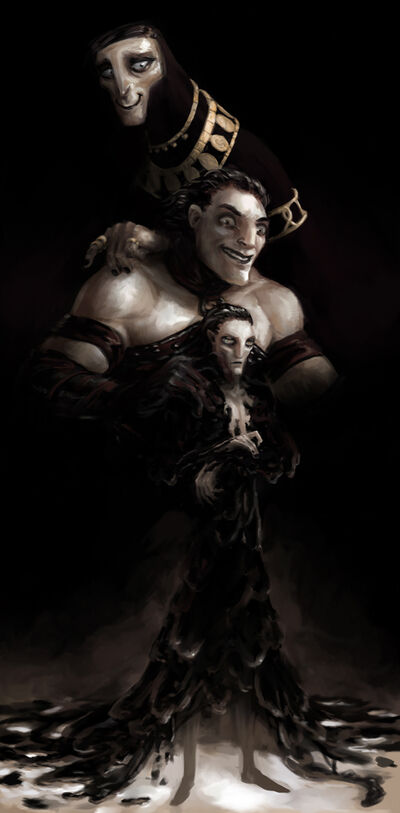 NightmareGalleon
(not to be confused with
the Nightmare Galleon
) is one of the more unusual pairings, pairing up
Pitch Black
from
Rise of the Guardians
with an alternate incarnation of himself. Though not one of the most popular ships, this pairing has many followers.
Relationship Overview
Edit
Spawned from fanart, people like to group the different incarnations created from the history of the character in a selfcest relationship and work off a dynamic from there.
Pitch Black
Edit
The Pitch presented in the final version of the film, as well as the version everyone is familiar with. Slick, cynical and sinister, Pitch Black is the all powerful spirit of fear, wishing to enact revenge on the Guardians and plunge the world back into the Dark Ages. 
Oil-Pitch Black
Edit
The most often used substitute for the original Pitch, artists like to portray this Pitch as wearing a suit made from a black sludge similar to black tar, oil or literal black pitch. According to storyboard articles by artist Javi Recio Gracia, when Pitch is defeated, Sandman's radiance causes Pitch's body to slowly melt away, Pitch pleading for him to stop until he finally concedes and slinks back into the shadows from whence he came. Some give this Pitch a long, black staff with an S at the top like he had in the online comics by Johane Matte, but this is not required. Because of the unique designs, people like to pair up this incarnation of Pitch with Icicle Jack.
Proto-Pitch Black
Edit
Design created by Christophe Lautrette and Shane Primore, Proto-Pitch was one of the original designs of the boogeyman before making him completely humanoid. His appearance is formless and mysterios, making him less like an individual person and more of an entity or a force of nature. He is usually seen with a calm smile, his arms disjointed and fluid, much like tentacles.
Book Pitch Black
Edit
The original Pitch Black. Having just escaped from imprisonment by the guardian Nightlight, General Kozmotis Pitchiner, now going by the title of "Pitch Black the Nightmare King", is free again and is out to destroy the wonder and light on the unsuspecting planet Earth. This incarnation is the Pitch from the original Guardians of Childhood book series. Much like Proto-Pitch, this version is often portrayed less like an individual and more like a force beyond comprehension, being able to destroy the kingdom of Tsar Lunar XI and end the Golden Age in one foul swoop. Because of this, fans like to portray him as being muscular to the point of being a giant with tight leather across his chest and arms.  
Human Pitch Black
Edit
Commonly used in fanart, fans sometimes include the idea of a normal human-being Pitch as a member of the Galleon. His appearance looks closer to the official canon Pitch, but has a natural peach color to his skin instead of the ash-grey color of the Boogeyman. He has no extraordinary powers or special abilites, and either maintains a neutral indifference or mild intolerance towards other people - especially whatever incarnation of the Guardians there maybe. He is most commonly found in the Modern AU.
Pitch Frost
Edit
Pitch Frost, formerly known as Kozmotis Pitchiner, gave his life to save his daughter from falling into the ice, and was revived by the Man in the Moon as shepherd to the season of winter and eventually given honorary status as a guardian. While cold to those who meet him, Pitch holds a warm heart and a lonely existence, and frequently antagonizes the darker incarnation of Jack, Black Jack. Whether he weilds a staff or not differs from story to story. 
Popular AUs
Edit
Known Examples
Edit
Fanfiction
Edit
Note: Please add only ones that are part of the RotBTD fandom
Mockup Art
Edit
Ad blocker interference detected!
Wikia is a free-to-use site that makes money from advertising. We have a modified experience for viewers using ad blockers

Wikia is not accessible if you've made further modifications. Remove the custom ad blocker rule(s) and the page will load as expected.