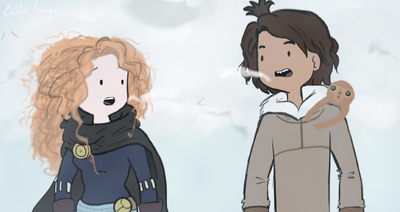 Meriguy is the name of the pairing between Merida DunBroch from Brave and Guy from The Croods. This pairing isn't commonly known yet, but it has a small following. 
Relationship Overview
Edit
While it is unclear what emotions they could bond over, their wild natures and love for the wilderness would play a major role in this relationship (i.e. Survival Tactics, etc.)
Popular AUs
Edit
Known Examples
Edit
Fanfiction
Edit
Mockup Art
Edit
Ad blocker interference detected!
Wikia is a free-to-use site that makes money from advertising. We have a modified experience for viewers using ad blockers

Wikia is not accessible if you've made further modifications. Remove the custom ad blocker rule(s) and the page will load as expected.