Lord MacGuffin
is the leader of the Clan MacGuffin, one of the four clans of the
Kingdom of DunBroch
in the Scottish Highlands and father of
Young MacGuffin
.
Appearance
Edit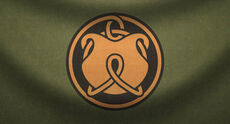 Lord MacGuffin holds the same portly physiology that Fergus and even the vikings from
Berk
. He he has blonde hair, mustache and beard, with matching braids in his hair and mustache. He wears a pine-green longsleeved shirt, a leather-armor shirt over it, leather boots, a kilt in his clan's colors (pine-green with bits of orange) a leather sporran at his front and a dagger strapped to his front.
Personality
Edit
Strapping Lord MacGuffin is full of brawn and dignity. Though a man of few words, his deep voice resounds across the land demanding respect and contributing to his reputation as the most even-handed and reasonable Lord in the kingdom. Even so, like his fellow Lords, MacGuffin isn't opposed to a first-rate brawl or full-throated belly laugh. He wanted his son to win Merida's hand in marriage, but still respects his son's descision along with the other first-born sons.
Powers and Abilities
Edit
As a veteran warrior, MacGuffin holds much battle experience in his years, able to hold his own in a fight with Lord Macintosh, Lord Dingwall, King Fergus and a few others.
Since his clan's emblem is a cauldron, it is possible that Lord MacGuffin possesses some cooking skills.
MacGuffin was seen weilding his dagger and sword, indicating that he is well-trained in swordsmanship.
Role in the Crossover
Edit
Relationship
Edit
Ad blocker interference detected!
Wikia is a free-to-use site that makes money from advertising. We have a modified experience for viewers using ad blockers

Wikia is not accessible if you've made further modifications. Remove the custom ad blocker rule(s) and the page will load as expected.