Lord Dingwall
is the leader of the Clan Dingwall, one of the four clans of the
Kingdom of DunBroch
in the Scottish Highlands and father of
Wee Dingwall
.
Appearance
Edit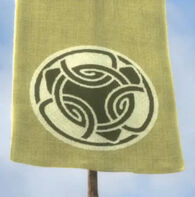 He is the shortest of the three lords. He is plump, with a sagging, elderly face, a grey bushy mustache and eyebrows with a balding set of grey puff of hair. He wears a pine-green longsleeved shirt, a leather-armor shirt over it, leather boots, a kilt in his clan's colors (yellow-greens with bits of orange) a leather sporran at his front.
Personality
Edit
Grumpy and quick-tempered, the scrappy Lord Dingwall doesn't let being height-challenged get in the way of solving his problems with fisticuffs. Never one to shy away from an old-fashioned fracas or high-spirited kerfuffle, he has no qualms taking on even the burliest adversary to assert his own position in the kingdom
Powers and Abilities
Edit
As a veteran warrior, Dingwall holds much battle experience in his years, able to hold his own in a fight with Lord Macintosh, Lord MacGuffin, King Fergus and a few others.
Dingwall was seen weilding his dagger and sword, indicating that he is well-trained in swordsmanship.
Role in the Crossover
Edit
Relationship
Edit
Ad blocker interference detected!
Wikia is a free-to-use site that makes money from advertising. We have a modified experience for viewers using ad blockers

Wikia is not accessible if you've made further modifications. Remove the custom ad blocker rule(s) and the page will load as expected.