Little Yama
is name of
Yama's
robot that he used to win Bot Fights until is was destroyed by
Hiro's
bot
.
Appearance
Edit
A Samurai like bot with a claw for a right hand and a shield that can be come a buzz-saw for a left hand, along with one red eye and round body.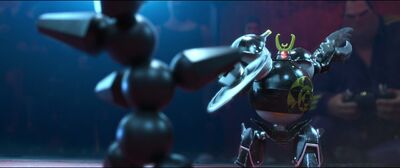 In the backstreet
Bot Fights
Yama
uses his bot (that he named after him) to win fights, stay champion, gain more money for him and his gang and to show people who is boss.

Little Yama's day as his owner's Golden Goose ended when it was "taken out" by Hiro Hamada's Megabot. One moment it was fighting a child's toy in the first, then the second round it got destroyed by a spinning killer bot.
Role in the Crossover
Edit
Little Yama is mostly seen in the Botfighting AU or in robot related crossovers with Yama.