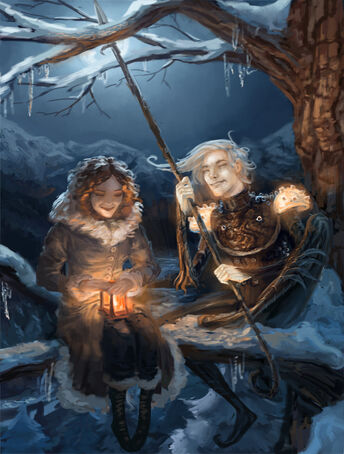 Kathlight (also known as Bedtime Stories) is the name of the pairing between Katherine (also known as Mother Goose) and Nightlight from the Guardians of Childhood book series. Though not a very popular pairing in the fandom, Kathlight does have its followers.
Relationship Overview
Edit
In Nicholas St. North and the Battle of The Nightmare King, when Nightlight and Pitch seperated from each other from their imprisonment, Nightlight went out to gather his strength while Pitch began to corrupt the dreams of the children of Santoff Claussan, Katherine being the only one of these children to stay calm through the ordeal. Nightlight returns when Nicholas began his fight with Pitch, leading the charge against the Nightmare King. 
In E. Aster Bunnymund and the Warrior Eggs At The Earth's Core, Nightlight stuck around in the temple of the Lunar Lamas with Katherine, North, Ombric and the others, patiently awaiting Pitch to make a comeback. He would join in on Katherine's storytelling sessions and take care of the giant geese the lunar Lamas kept.
In Toothiana, Queen of the Tooth Fairy Armies, Katherine suffers from bad dreams that leave her crying in her sleep. Nightlight takes one of her tears to see the dream and feels sorrow for his suffering friend. Katherine later loses her last baby tooth. While everyone else at the Lunar Sanctum rejoices, eager to meet Toothiana in all her splendor, Nightlight secretly mourns for his aging friend, fearing that his friends will grow old and die without him.
In The Sandman and the War of Dreams, Nightlight gives Katherine a "Kiss of Goodnight" on the lips which awakens her from a sleeping curse placed over her by Pitch, as well as him become a real adolescent boy who will finally age like everyone else.
Their fate afterwards as of now is left open for any fan to draw their conclusion, but the most common conclusion is that they stay together as a true romantic couple.
Popular AUs
Edit
Known Examples
Edit
Fanfiction
Edit
Note: Please add only ones that are part of the RotBTD fandom
Mockup Art
Edit
Ad blocker interference detected!
Wikia is a free-to-use site that makes money from advertising. We have a modified experience for viewers using ad blockers

Wikia is not accessible if you've made further modifications. Remove the custom ad blocker rule(s) and the page will load as expected.