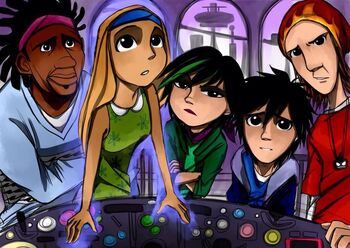 Inside Heroes
is the name of the crossover between the two CGI animated films
Big Hero 6
and
Inside Out
. It is currently one of the most popular concepts in the fandom and is slowly gaining more followers.
About the Crossover
Edit
The two recently released fims have gained a lot of attention within the fandom and have a very wide fanbase. There are several scenarios that this crossover can take, including turning the superheroes into Emotions (or vice versa), showing the inner psyche of the Big Hero 6 characters, much like Riley's psyche is shown, or simply having Riley herself interact with the Big Hero 6 characters. 
Since it is not canon, ideas for this crossover are shown through fanfiction, videos, and fanart.
Popular Ships
Edit
Popular AUs
Edit
Popular EUs
Edit
Known Examples
Edit
Fanfiction
Edit
Mockup Art
Edit
Miscellaneous
Edit