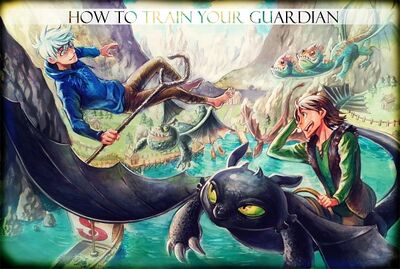 How to Train Your Guardian
is the crossover between the two CGI animated movies
How to Train Your Dragon (2010)
and
Rise of the Guardians (2012)
. This can be considered one of the most popular concepts in all of the fandom.
About this Crossover
Edit
Being one of the original fore-runners of the fandom, How to Train Your Guardian has become one of the biggest crossovers in the fandom due to the growing following of the Hijack pairing. This crossover makes it to where the lore of the Guardians and the events on Berk possible within the same world, even making it to where they are related in some way.
Popular Ships
Edit
Popular AUs
Edit
Popular EUs
Edit
Known Examples
Edit
Fanfiction
Edit
Mockup Art
Edit
Ad blocker interference detected!
Wikia is a free-to-use site that makes money from advertising. We have a modified experience for viewers using ad blockers

Wikia is not accessible if you've made further modifications. Remove the custom ad blocker rule(s) and the page will load as expected.