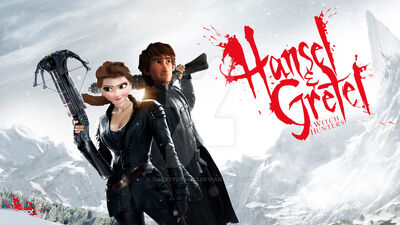 Hansel and Gretel AU
is an AU (Alternate Universe) within the
Rise of the Brave Tangled Dragons
fandom. In the AU,
Hiccup
,
Merida
,
Rapunzel
and
Jack Frost
are portrayed as characters from the 2013 film,
Hansel and Gretel: Witch Hunters
. This could also be a sub-scenario for
Fairy Tale AU
,
Dark AU
and
Monster AU
.
About this AU
Edit
In this AU, the Big Four and other such characters are portrayed as characters from the Hansel and Gretel: Witch Hunters film or the original Grimm Brothers fairy tale, that the film is based on.
Featured Characters
Edit
The Big Four
Edit
Fans have cast Hiccup between Hansel (with Elsa as Gretel) and Benjamin "Ben" Walser, the Witch Hunter Sibling's biggest fan and their Witch Hunter in-training.
Fans have portrayed Jack as Hansel, with Elsa, Merida or an older version of his little sister as Gretel. Hansel became a Witch Hunter after he was nearly eaten by a witch and Jack was given a second chance of "life" when he became a Winter Spirit; and the two characters look out and care for their sisters.
Merida being a sister that seeks help from her brothers, is skilled with her weapon of choice and has been near a witch and her magic, can easily cast her as Gretel.
Extra Characters
Edit
Being a sister and looking out for her sibling (and having the power of the "frozen" heart), casts Elsa as Gretel, with Hiccup, Jack or Hans as Hansel. Fans have also cast her as a female Hansel, when Anna is Gretel.
When Elsa is a female Hansel, Anna is portrayed as Gretel.
Having the first same letters in their names, fans have cast Hans as Hansel, mostly when Elsa is placed with the role of Gretel. Hans is also portrayed as Sheriff Berringer.
Marshmallow is seen as the troll Edward, when Elsa is Gretel.
Gothel is seen as the evil grand witch Muriel or one of the other witches that the siblings were tasked to kill. Even as the witch from the original fairy tale, that the film is based on.
Known Examples
Edit
Fanfiction
Edit
Mockup Art
Edit