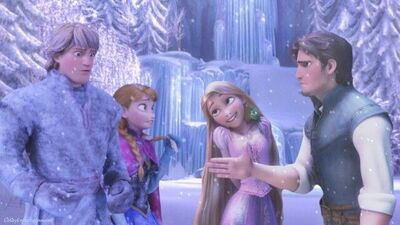 Frozen Tangled
is a crossover between the two CGI animated movies 
Tangled (2010)
 and 
Frozen (2013).
 This can be considered one of the most popular concepts in all of the fandom.
About this Crossover
Edit
This crossover makes it to where the events of Rapunzel's 18th birthday and the events of Elsa's coronation possible within the same world, even making it to where they are related in some way.
This crossover may, in fact, be canon within the respective films. Rapunzel and Eugene make a cameo during the song sequence "For the First Time in Forever", entering Castle Arendelle as the gates open and Anna leaves to explore. The crew that made both films have confirmed that Rapunzel is Elsa and Anna's cousin.
Popular Ships
Edit
Popular AUs
Edit
Popular EUs
Edit
Known Examples
Edit
Fanfiction
Edit
Mockup Art
Edit
Miscellaneous
Edit
Ad blocker interference detected!
Wikia is a free-to-use site that makes money from advertising. We have a modified experience for viewers using ad blockers

Wikia is not accessible if you've made further modifications. Remove the custom ad blocker rule(s) and the page will load as expected.