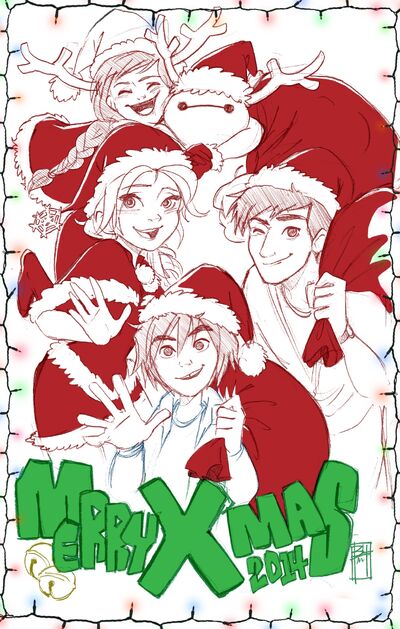 Frozen Hero 6
is a crossover between the two CGI animated movies
Frozen (2013)
and
Big Hero 6 (2014)
 This can be considered one of the most popular concepts in all of the fandom.
About this Crossover
Edit
This crossover brings the cast of characters from Frozen and Big Hero 6 meet in different ways.
Because Big Hero 6 was made by the same people that created Frozen, Frozen Hero 6 has become a common and fairly popular crossover.  
The two most common scenarios used is either through time-travel - one party being sent back or forward in time to the other party's time-period - or AUs that take place in one of their respective time periods.
There is also some Frozen Easter Eggs in Big Hero 6. Like the statue of Hans - that got destroyed by Baymax's rocket fist - and Hans' face being on a wanted poster at the San Fransokyo Police Station, along with a small statue of Olaf - seen in Hiro and Baymaxs' test flight scene.
Popular Ships
Edit
Popular AUs
Edit
Popular EUs
Edit
Known Examples
Edit
Fanfiction
Edit
Mockup Art
Edit
Articles/Links
Edit
Ad blocker interference detected!
Wikia is a free-to-use site that makes money from advertising. We have a modified experience for viewers using ad blockers

Wikia is not accessible if you've made further modifications. Remove the custom ad blocker rule(s) and the page will load as expected.