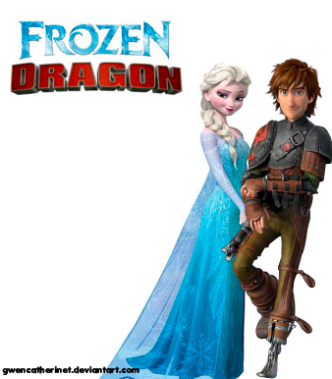 Frozen Dragon 
(also known as
How to Train Your Frozen Dragon
and
How to Let it Go
) is a crossover between the two CGI animated franchises 
How to Train Your Dragon
and
Frozen
. Though vaguely known in the fandom, its popularity is slowly rising.
About this Crossover
Edit
This crossover, being relatively new to the fandom, is becoming well-treated with it's consistent uses of fanfiction, fanart, etc. due to Frozen's growing poularity, How to Train Your Dragon 2 and its following fame for its movie release, and the loyal fandom pairing of Hiccelsa and Hiccanna. Frozen Dragon can follow the storyline of the movie Frozen, where Hiccup (and co.) attends Elsa's coronation and have the characters meet as to where the events of the movie take place and takes it further to HTTYD 2, where Elsa, Anna, and the others aid Hiccup in the battle against Drago Bludvist or have a completely different story of the characters meeting, dependent on the author and his/her fanfiction.
This can also have the pairings of mainly Hiccelsa, Hiccanna, etc.
Popular Ships
Edit
Popular AUs
Edit
Popular EUs
Edit
Known Examples
Edit
Fanfiction
Edit
Mockup Art
Edit