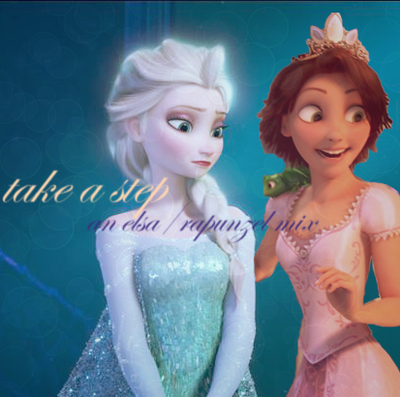 Elsunzel
(also known as
Rapelsa
and
Rapunzelsa
) is the name of the pairing between 
Queen Elsa
from 
Frozen
 and 
Rapunzel Corona
 from 
Tangled
. It is not a popular ship in the Big Four fandom, but there are still many who support the relationship.
Relationship Overview
Edit
Elsa and Rapunzel were both locked away from the world because of their magical abilities, but despite this, the two have very different personalities. Both of them were isolated by their family because the powers they possess, Elsa was born with ice powers while Rapunzel's hair have healing powers. Elsa was isolated by her parents because they thought it was for the best while Mother Gothel doesn't wanna lose her source of power. Elsa is cold and distant, while Rapunzel is bubbly and warm. Many fans believe that, much like Anna, Rapunzel's loving nature would bring Elsa out of her shell and cause her to open up more.
Several fans believe that the two might be cousins, or at least friends, but in some cases their relationship may blossom into romance. Their relationship is often portrayed as "sun and snow," both for their personalities and their magical abilities.
Popular AUs
Edit
Known Examples
Edit
Fanfiction
Edit
Mockup Art
Edit
Miscellaneous
Edit
Ad blocker interference detected!
Wikia is a free-to-use site that makes money from advertising. We have a modified experience for viewers using ad blockers

Wikia is not accessible if you've made further modifications. Remove the custom ad blocker rule(s) and the page will load as expected.