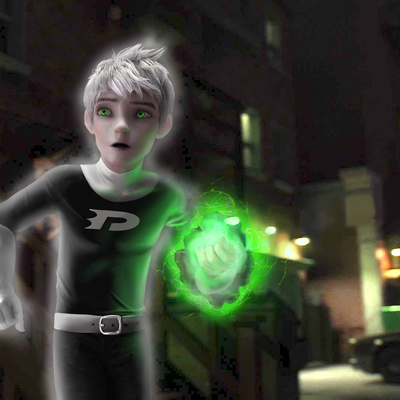 Danny Phantom AU
is a AU (Alternate Universe) within the
Rise of the Brave Tangled Dragons
fandom. In the AU,
Hiccup
,
Merida
,
Rapunzel
and
Jack Frost
are portrayed as characters from the Nickelodeon TV series of
Danny Phantom
. This can be considered a sub-scenario of
Superhero AU
,
Modern AU
,
Ghostbusters AU
,
Sci-Fi AU
and
Hybrid AU
.
About this AU
Edit
Featured Characters
Edit
The Big Four
Edit
Jack is commonly portrayed as Daniel "Danny" Fenton; A.K.A the human-ghost hybrid, "superhero", Danny Phantom. Due to them having two different shares of hair and eye color, able to fly, living in small towns, having a female sibling and having their lives turn upside down when they became "spirits". Brown hair and eyes for when he is Fenton/Overland and white hair and blue/green eyes for when he is Phantom/Frost. Burgess can serve as the town of Amity Park.
Extra Characters
Edit
Having a young, white haired nemesis, that he tries to bring him to his side, before he decides to "get rid of him", casts him as Vladimir "Vlad" Masters; A.K.A the "first" human-ghost, Vlad Plasmius. Kozmotis Pitchiner for when he is Masters and Pitch Black for when he is Plasmius. Pitch's Nightmares can serve as the ghosts that Danny fights and are loyal to Vlad.
Having a experience with a portal, labs, gadgets and juggling his school and superhero lives together, with the support of his friends easily casts him as Danny Fenton/Phantom.
Since Aggie is already a ghost that cursed and haunts Blithe Hollow, she can serve as one of the ghosts that Danny fights and sends back to the Ghost Zone.
Known Examples
Edit
Fanfiction
Edit
Mockup Art
Edit
Articles/Links
Edit
Ad blocker interference detected!
Wikia is a free-to-use site that makes money from advertising. We have a modified experience for viewers using ad blockers

Wikia is not accessible if you've made further modifications. Remove the custom ad blocker rule(s) and the page will load as expected.