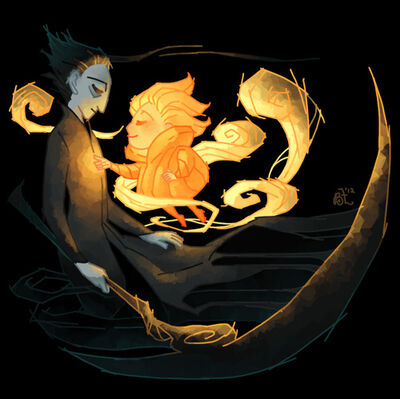 BlackSand
(also known as
QuickSand
and
Gold & Dark
) is the name of the pairing between
Pitch Black
and
the Sandman
from 
Rise of the Guardians
. Though not a very popular pairing, BlackSand does have its followers.
Relationship Overview
Edit
In the film, after stealing away all of the teeth from the Tooth Palace, Pitch then sets his sights on Sandman, noting that not only is Sandman  debatably their most powerful member, but also the most important, as Sandman's dreams are what fuels faith in the other Guardians (hinted at after Sandy's revival). After Pitch assimilated Sandman, Pitch's power escalates and the Guardians are left nearly helpless. After Pitch's black-sand becomes purified by the children, Sandman is revived and drags Pitch around for a bit and finishes the fight off for his friends, restoring the dreams of children everywhere.
According to the original books, both Sandman and Pitch are people who lived through the Golden Age before the Guardians and are even older than Tsar Lunar XII, later known as the Man in the Moon. This could mean that both the Sandman and Pitch are infact the same alien species. Sandman is also the only friend to Pitch's daughter, Mother Nature.
Many see Sanderson and Pitch to be opposites in many ways. Sandy is short and plump, Pitch is tall and lean. Sandy brings sweet dreams, Pitch brings nightmares. Pitch's voice echoes all throughout the room when he speaks, Sandy can't speak at all. Sandman glows like a star in the night, Pitch blends in with the darkness. Despite their differences however, they both share power over the psychological, as opposed to most other spirits, who's powers are centered around the physical and the environment around them.
Whichever direction their relationship takes depends on the fan-writer. Despite being enemies, Pitch and Sandman retain an unspoken connection with each other due to their age and mutual connection to the stars. Sandman can provide the only unsevered link between Pitch and his daughter, if Pitch allows it. Many fans like to have the two oneirokinetics as rivals, outdoing each other and pranking each other for their own amusement. Whether their relationship developes into a small friendship or a platonic relationship differs from story to story.
As a sort of reaction to the BlackSand pairing, fans often like to make Sandman out in a more human-like incarnation with a resemblance to Pitch, calling the character Pitch Gold because of it.
Popular AUs
Edit
Known Examples
Edit
Fanfiction
Edit
Note: Please add only ones that are part of the RotBTD fandom
Mockup Art
Edit
Ad blocker interference detected!
Wikia is a free-to-use site that makes money from advertising. We have a modified experience for viewers using ad blockers

Wikia is not accessible if you've made further modifications. Remove the custom ad blocker rule(s) and the page will load as expected.