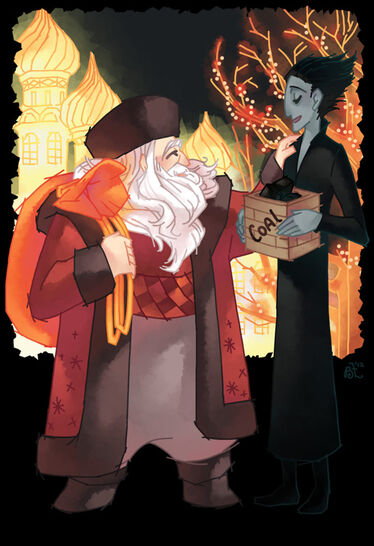 BlackChristmas
is the name of the pairing between 
Pitch Black
 and 
Nicholas St. North
 from 
Rise of the Guardians
. Though not a very popular pairing, BlackChristmas does have its followers.
Relationship Overview
Edit
In Nicholas St. North and the Battle of the Nightmare King, North was the first to oppose him since his resurrection, fighting off the bear possessed by Pitch and protecting the children that he threatened. This cemented their roles as enemies to one another, fighting each other off until one finally falls. 
As the unofficial leader of the Guardians, North holds no relationship with Pitch aside from an antagonistic one, but much like the other Guardians, both North and Pitch hold high regard and enthusiasm for what they do. 
Popular AUs
Edit
Known Examples
Edit
Fanfiction
Edit
Note: Please add only ones that are part of the RotBTD fandom
Mockup Art
Edit
Ad blocker interference detected!
Wikia is a free-to-use site that makes money from advertising. We have a modified experience for viewers using ad blockers

Wikia is not accessible if you've made further modifications. Remove the custom ad blocker rule(s) and the page will load as expected.