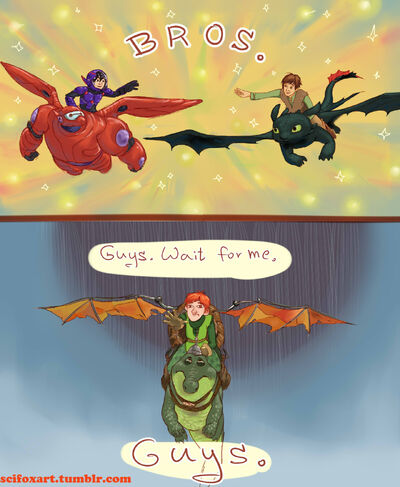 Big Dragons of Valour
is a crossover between
How to Train Your Dragon (2010)
,
Justin and the Knights of Valour (2013)
,
and
Big Hero 6 (2014)
. In this crossover, the main characters are
Hiccup Horrendous Haddock III
,
Justin
, and
Hiro Hamada
(as well as
Toothless
,
Baymax
and
Gustav
by proxy). While the crossover is fairly new, it has become incredibly popular in fanart. This EU is considered an amalgam of
How to Be A Hero
,
The Knights of the Epic Brave Dragons
and
The Protectors
.
About the EU
Edit
Featured Characters
Edit
Toothless is normally a supporting character and is usually there as a sidekick or just to give them a ride home.
Like Toothless, Baymax is usually a supporting character, serving as a sidekick (mainly to Hiro) and as a healer.
Ship Names
Edit
Known Examples
Edit
Fanfiction
Edit
Mockup Art
Edit
Ad blocker interference detected!
Wikia is a free-to-use site that makes money from advertising. We have a modified experience for viewers using ad blockers

Wikia is not accessible if you've made further modifications. Remove the custom ad blocker rule(s) and the page will load as expected.