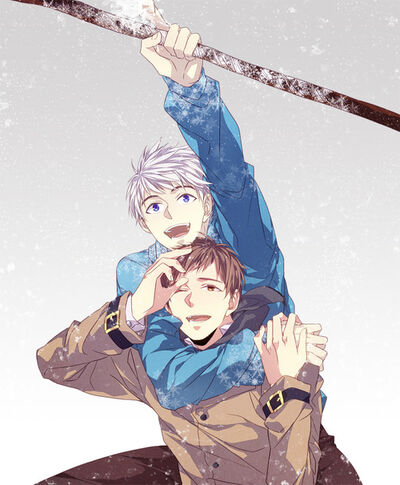 BenneFrost is the name of the pairing between Jack Frost and Jamie Bennett from Rise of the Guardians. Though not an incredibly popular ship in the Big Four fandom, there are still many who support the relationship.
Relationship Overview
Edit
The first encounter between the two occurred two days before Easter Sunday, Jack Frost bringing a snow day to Burgess and instigating a snowball fight between Jamie and his friends. Jack caused him to slip on some ice and began a hectic ride around downtown on his sled. He lands in a soft pile of snow, only to have one of his front baby-teeth to be knocked out by a sofa that fell out of a moving truck during the sleigh-ride.
Jack meets Jamie again while helping the Guardians collect teeth. Jamie is able to see all of them instead of Jack, as he does not know much about Jack for him to belive in him. After a rather hectic encounter with Jamie's greyhound Abby, Sandman manages to douse him with dreamsand and is put to bed.
The next morning, Jamie and his friends search for easter eggs across town, but is unable to find any (Pitch having destroyed them earlier). Jamie still remembers his encounter with the guardians and retains his belief in them, while his friends are left bitter and hopeless from Pitch's meddling. Later that night, Jamie is at war with himself, using his stuffed rabbit as prop for pondering. He pleads for a sign, not knowing that Jack was there at his window. Seeing his belief slowly dying, Jack uses his winter magic to rekindle his belief, only for Jamie to finally be able to see him.
When Pitch and the remaining Guardians, Jamie is left frightened by Pitch's presence. This allows Jack to realize why he was chosen, not only using fun to avoid Pitch, but as a tool to combat Jamie's fears and rekindle the belief in his friends. With Pitch ready to strike, Jamie's courage manages to purify Pitch's nightmares back into dreamsand, restore the Sandman and save the day.
Whatever direction their relationship takes is left for the fans to discover. The most common route fans take is that their brotherly-bond lasts throughout the years and, as Jamie comes of age, their relationship blossoms further into "something more". This relationship often leads to three different conclusions: Jamie grows old and dies (leaving Jack to live on with his immortal existence), Jack is allowed another chance at becoming human or the Man in the Moon sees the right qualities in Jamie to make him into a spirit, allowing him and Jack to be together forever.
Popular AU
Edit
Known Examples
Edit
Fanfiction
Edit
Note: Please add only ones that are part of the RotBTD fandom
Mockup Art
Edit