"I smell HUMANS!"
—Bela
Bela is Vlad's right-hand man, leader of his Bat Cronie Army and antagonist of Hotel Transylvania 2 (2015).
Appearance
Edit
Personality
Edit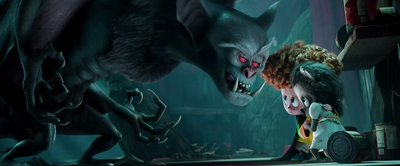 Unlike his master, Bela is shown to be energetic and easily worked up for little to no reason. He is prone to going into a rage whenever the slightest bit of news is made and has to be told to stop shouting by Vlad. He seems to possess a deep-seated hatred of humans, taking matters into his own hands and calls upon his bretheren, hunting down Dennis and Winnie with intentions of eating them.
Powers & Abilities
Edit
It could be assumed that, like other monsters, Bela is essentially immortal.
Role in the Crossover
Edit
Relationships
Edit
Ad blocker interference detected!
Wikia is a free-to-use site that makes money from advertising. We have a modified experience for viewers using ad blockers

Wikia is not accessible if you've made further modifications. Remove the custom ad blocker rule(s) and the page will load as expected.